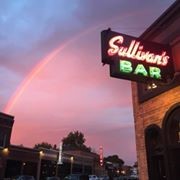 When you ask about Blackstone the comment that follows, "it's the hottest" is, "I remember when it wasn't, there was Sullivan's and that was it."
Sullivan's opened in 1954 and in 2001 was bought and restored by Dan Houlihan, an Omaha bar/restaurant veteran. Dan wanted Sullivan's to stay comfortable, urban and honest. His preservationist leanings saved the neon sign and the door with the martini glass shaped window. He wasn't looking to west-O strip center bars for inspiration; his hero bars are all Omaha classics, the Homy Inn, Mr. Toads and the Interlude.
Dan was certainly an early Blackstone District visionary, but he wasn't the only one. Many claim they've always known that the area around Farnam street, 37th to 41st, would become the rage, but it was the guts, sweat and savvy of a small group that made an entire entertainment district grow. Independent business owners like Houlihan and Brad Iwen, along with developers including Jay Lund and Matt Dwyer of Greenslate Development, were key to the area's success. Forming the Blackstone Business Improvement District and making Farnam a two-way street was crucial to making Blackstone the place to party.
Mid-towners have heaps of choices when deciding where to meet friends. There are sleek newly constructed districts like Midtown Crossing or Aksarben, and relaxed old neighborhood districts like Dundee, Benson or Blackstone. Try them all to find which best fits your style. You'll need to try Blackstone more than once to experience all the must-hit places. If you don't visit Archetype Coffee, Stirnella and Coneflower don't admit it; people will worry about you. And that doesn't even include the bars!
New restaurants keep popping up in Blackstone and Sullivan's Bar has moved to a larger historic building directly across the street from the old one, where Archetype now resides. Like the old Sully's, new Sully's is a Blackstone icon. New Sully's was restored by Dan and his friends so it respects the historic fiber of the original building and it preserves the feeling only having a drink in an old neighborhood bar can offer.
-Annika Phillips