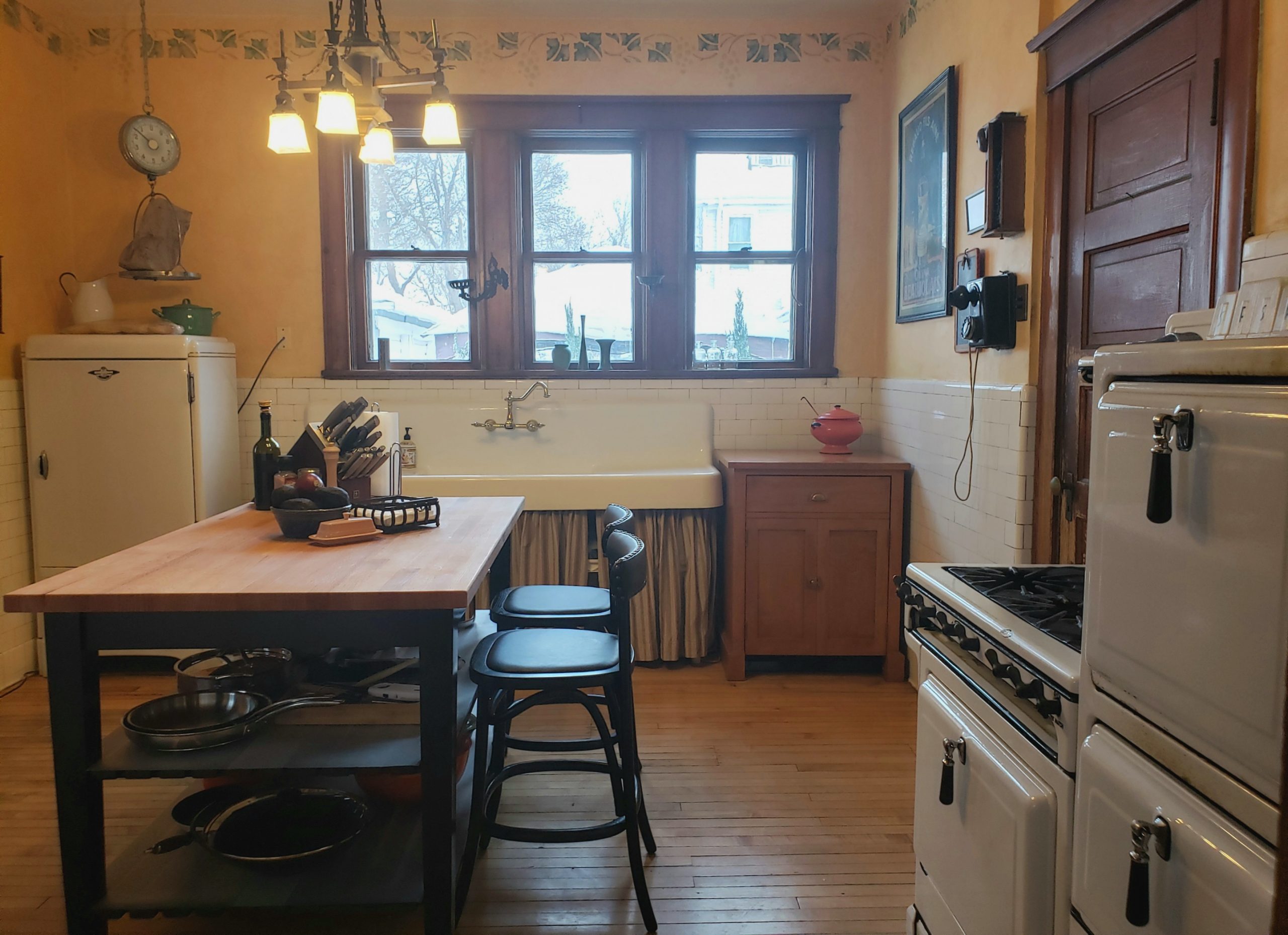 "I love the charm of an old house, but I'd have to have an updated kitchen." As a Realtor® specializing in older homes, I hear that a lot. No doubt, there are many advantages to kitchen mod-cons. However, the need for a brand-new kitchen is somewhat due to excellent marketing by the kitchen renovation industry. Kitchen fashion has become as fleeting as apparel fashion, prompting many to re-do their kitchens to reflect this month's HGTV trend. Joanna Gaines would likely have a seizure if she saw a real farmhouse kitchen, for example, my kitchen. In fact, in 2000, when Coca-cola needed to film a commercial in a classic farmhouse kitchen they used my kitchen.
There are concessions to having a vintage kitchen, for example, the drain in my 1901 wall-mounted sink doesn't allow for a garbage disposal. Also, … … nope the garbage disposal is the only concession I can think of.
Visitors to my home often appear stunned when they see the kitchen for the first time. They may be shocked, but I prefer to interpret the reaction as amazement. I am often asked if I really use my vintage stove. It's been my stove for over 30 years. I'm such a fan of the 1936 six-burner, dual oven Magic Chef stove that I brought it with us when we moved here from Illinois. Before then it was owned by the International Order of Good Templars in Geneva Illinois and used for their annual herring breakfast. The refrigerator, also from the mid-1930s, began having incontinence issues a couple of years ago so I unplugged it to save the original maple floors. I now use it for storage. The dishwasher is hidden in a bin cabinet custom made to match the cabinetry in the adjoining butler's pantry. Please click here to see a post about the butler's pantry.
Fortunately, the kitchen also includes a sizable maid's pantry. Since I have a contemporary refrigerator, wine fridge, microwave, coffeemaker, etc. I, like Mrs. Robinson, hide it in a hiding place where no one ever goes, I put it in the pantry with my cupcakes.
The kitchen has undergone some improvements lately. At the suggestion of a friend, an executive chef who has designed restaurant and hotel kitchens, I replaced the antique kitchen table with a more ergonomic counter height prep table. Also, I now keep my mis en place items in the vintage refrigerator, so they are closer to the prep table.
Chipped white porcelain and worn wood don't have the sleekness of granite and stainless, but they echo a century of venison stews, holiday spreads, and according to my calculation, about 100,000 cups of coffee.